---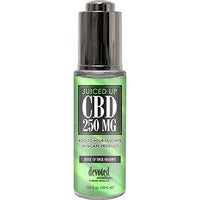 250mg CBD per bottle - Juice Up Your Session!
USE: Add drops to your favorite lotion prior to application.  or Can be used in -Tanning lotions, sunless sprays, skincare and moisturizers, haircare and topical beauty products

Enhance your session with Devoted Creations Juiced Up Drops! These one of a kind 250mg CBD drops will improve your skins response to dry, tired and irritated skin by hydrating, calming and neutralizing free radical damage. You can add a little or a lot to your current product and take your skin and tan to a whole new level of zen. If your session is in need of a little CBD boost, then it's time to get Juiced up!
CBD Additive drops
250Mg of CBD Isolate
Skin softening
Antioxidant Rich
Skin quenching Coconut Juice Base
Melanin Stimulators
Hydrating Hemp Seed Extract
Anti-aging and Firming